by RockHard and Ben Perry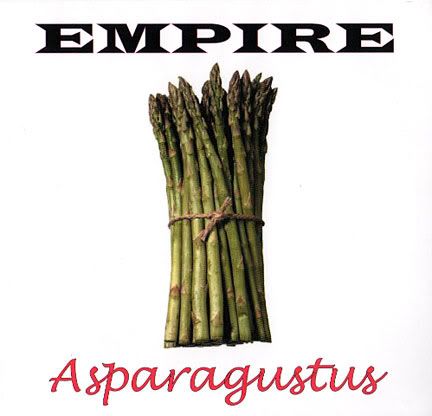 Vital Statistics:
Record Company:
Wuzabi Records/Empire
Release Date:
2009
Producer:
Michael Beaulieu
Band Web Site:
http://www.myspace.com/wuzabirecords
Kris' Page:
http://www.myspace.com/kriskeyes
Mike's Page:
http://www.myspace.com/gtrmike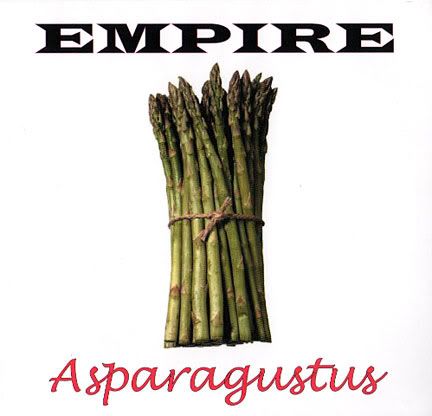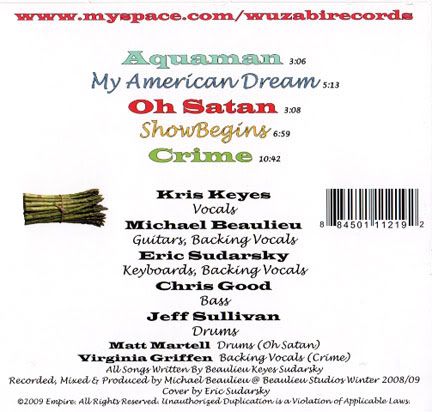 Musicians:
Kris Keyes ~ Vocals
Michael Beaulieu ~ Guitars, Backing Vocals
Eric Sudarsky ~ Keyboards, Backing Vocals
Chris Good ~ Bass
Jeff Sullivan ~ Drums
Additional Musicians:
Matt Martell ~ Drums (
Oh Satan
)
Virginia Griffen ~ Backing Vocals (
Crime
)
Play It!
The Rundown:
1.)
Aquaman

[

3:06

] (Beaulieu/Keyes/Sudarsky):
<<< Insert obvious joke about my illustrious co-reviewer here...
>>>
OK... Now that we've taken care of that little piece of business...
The song starts with some sonar sound effects (very
Echoes
-sounding
), before kicking into a cool little reverb-laden melody. The tune hits a nice little groove from there, picking up steam a bit at times before returning to the original melody. I liked this one a lot... and any tune featuring lyrics like:
"Wonder Twin powers... Activate..."
is AOK in my book.
Rating:
8/10
Track 1: "Aquaman"
A song dedicated to Aquaman, that's got to be a first or pretty much near it. The music reminds me of grunge in the rhythm section as the guitar have that distorted feel, but the melody when it appears at the beginning and also at other points is very catchy and different. The vocals are pretty good, sometimes they get covered up and I think he could sing a little louder at some points.
Song Rating: 8.5 out of 10
2.)
My American Dream

[

5:13

] (Beaulieu/Keyes/Sudarsky):
Wow. This one has a definite Rush-meets-Living Colour vibe. Progressive with a funk mentality. Very cool.
The band really strokes one out of the park rhythmically... and singer Kris Keyes shows off a pretty nice vocal range throughout. Easily the most accesible song on this disc... and an excellent listen. Very cool.
Rating:
9/10
Track 2: "My American Dream"
More of a piano driven track with a decent guitar rhythm backing as it transitions into melody backed by keyboard atmosphere. The vocals are clearer on here than the previous track and the music sounds good, although very repetitive until the solo, which has more than a few Tony Iommi touches to it.
Song Rating: 8 out of 10
3.)
Oh Satan

[

3:08

] (Beaulieu/Keyes/Sudarsky):
Another nice funky groove here... with a Faith No More/King's X feel to it. This band switches themes a few times, throwing the listener the occasional curve ball, but never fails to keep your foot tapping until the end, when the band breaks into a nice acoustic-driven interlude, eventually falling back to the main theme. Tasty tunage.
Rating:
8/10
Track 3: "Oh Satan"
Probably my favorite song on the album, just great sounding from the vocals to the guitars and the background keyboards top everything off. I definitely feel some 90's grunge on here, definitely Alice in Chains and a distant cousin of Stone Temple Pilots, perhaps.
Song Rating: 9 out of 10
4.)
Show Begins

[

6:59

] (Beaulieu/Keyes/Sudarsky):
This is the heaviest of the output here, but it has an interesting interplay between the aggressive rhythm section and keyboards. The guys change things up a lot here too... and the song appears to have two vocalists (or possibly two independent vocal tracks?) intertwining or alternating their vocal parts throughout most of the song, again providing a very different and interesting sound. At first listen, this song came across as a bit busy and complicated... but after a few listens, the various parts blend together better and the overall feel of the song cuts through. This one won't grab you on the first listen, but if you give it a chance... it will get a hold of you eventually.
Rating:
7/10
Track 4: "Show Begins"
Cool intro with doomy guitars off-set by keyboards before ending abruptly into some Manowar sounding vocals (I'm thinking from the album The Triumph of Steel for that comparison) but, this song seems to have less in the composure as the previous, as everything gets thrown in for good measure. The keyboards are my favorite part of this tune with everything else essentially adding to the chaos of "too much going on at once." The doomy guitar is decent too, thankfully they use it more than just in the intro.
Song Rating: 7 out of 10
5.)
Crime

[

10:42

] (Beaulieu/Keyes/Sudarsky):
This is a very ambitious piece of music, with big piano and organ swells playing against a heavy and progressive guitar attack. And just when the song hits a high point of aggression... you are suddenly listening to quiet acoustic-driven melodies. The band changes themes frequently, building from atmospheric acoustic bits to razor-edged, driving riffs. Throughout the song, certain elements (mostly the piano and keyboards) keep the song flowing amazingly well. All of their songs are rhythmically complex and interesting... but this one is on a whole different level, blending countless themes and vibes into one long collage of sound. Color me impressed.
Rating:
9/10
Track 5: "Crime"
The longest song on the album, clocking in at over 10 minutes, but the dynamics of the song change enough that the time does not pass slowly. The song is interesting, and although I do not hold it as high as "Oh Satan" it shows a lot of potential for the band, vocally as well as musically. The production job suffers on this song, which may be part of the reason for the lack of enjoyment I feel, whereas a more polished sound would have been enjoyable. The grunge guitars with the keyboard/piano tinkling persists as before to the same effect, the drums stand out more on here for me, though, with some interesting fills and patterns.
Song Rating: 8 out of 10
The Last Word:
Wow! This EP packs a lot of punch and doesn't even clock in at 30 minutes. These guys have been eating their musical Wheaties, without a doubt.
When we were first approached with the idea to do a review for an indy band, I'll admit that I was a bit reluctant. I was thinking that in an era where really talented new rock and metal bands are in short supply, we might end up writing a review that was less-than-flattering and therefore discouraging for an up-and-coming band. We were given a copy of
Show Begins
as a teaser to feel the band out. After that listen, you could almost hear a collective, "Whoa!"... and we all mentioned wanting to hear more. It was easy to see that this band had more than enough chops to impress, but that song is so complicated and varied... I was then afraid that we'd be knocking the songwriting as too incoherent and directionless.
Upon receiving the disc in the mail, though, I'd say that a few listens easily set all my fears to rest.
Really, what it boils down to is this: These guys are definitely talented... and truly innovative to boot. As most of you know, I've got a pretty big music collection... and pretty eclectic tastes in music. Even so, I would still have to say that these guys were a really pleasant surprise. I guess that makes this disc the musical equivelant of "Shock & Awe."
In my review, I've mentioned various bands that I got a whiff of during the listening process, but that's not to imply that these guys are copying anyone. In fact, I meant it as a complement... because none of the bands I mentioned will ever be mistaken for simple three-chord bar bands... and they all struggled a bit for commercial success due to the unusual approach they took musically. This band really displays a tremendous knack for taking you on a musical joyride through an ever-changing array of themes and vibes... but always manage to keep you following that underlying musical thread through to the end. That's not easy to do, particularly when you're dealing with such a diverse range of musical styles. The more I listen to it, the more I hear within each song. That's pretty damn impressive if you ask me.
The only downside I really found was the production/mixing. Kris has a fairly deep voice... and I found that my first listen was a bit of a struggle to pick out the vocals and try to understand the lyrics. Don't get me wrong, it's far from a poor job, but I found myself reaching for the EQ almost immediately and quickly found that a boost at 6k did the trick to bring the vocals out. From then on, it was a much more enjoyable listen.
The only other suggestion I'd have is to perhaps send something a little more accessible as a teaser track. If I were trying to impress fellow musicians, a track like
Show Begins
easily does the trick... but to impress the average listener, I'd reach for something a bit easier to digest. In this case,
My American Dream
or
Oh Satan
would have had me at hello, without a doubt.
For fans of progressive rock (or any of the bands I've mentioned here), this disc is more than worth the effort to track down. I've got the feeling that it may soon be a collector's item. You know... that long lost indy record the band did right before they hit the big leagues.
I wish Empire the best of luck and big-time success. Trust me... they deserve it.
RockHard approved.
Overall Review:
Empire, not to be confused with the band that released the album Raven Ride, is a band up-and-coming with this album, and show that they have something to offer to the music scene. The songs are steeped well in the 90's grunge and hard rock era with definite parallels to Alice in Chains, but at the same time transcending those bands by incorporating the keyboard sequences and having a vocalist on par with Layne Stanley, if not better if this album was produced differently. With the production lies my only true disliking as everything comes together in a cacophonous environment at points, burying each piece of the music into one another, in a non-conforming way so that the full experience is missed. Songs like "Oh Satan" and pieces of "My American Dream" and "Crime" have the clarity and soul to be great, but lack it through the finish. "Oh Satan" has to be the best track on here with everything working together for the effect and none of the over complications that throwing everything together on some of the other tunes. The band also uses music as a critique on the American government, bringing music back to what it was as a powerful entity to check politics and social life. If grunge type music with doom guitar inspired by Tony Iommi is your type of music, watch this band as if things work out they could become big and will be what you want to hear.
The Bottom Line (AKA - The Six-Pack Scale):
Overall Album Rating: 8 out of 10
Empire's MySpace Page wrote:
The EMPIRE ASPARAGUSTUS EP is now available. The CD's are $5.00 each. For those interested in purchasing the CD please send check or money order to:

EMPIRE
P.O. Box 5061
Manchester, CT 06045