by RockHard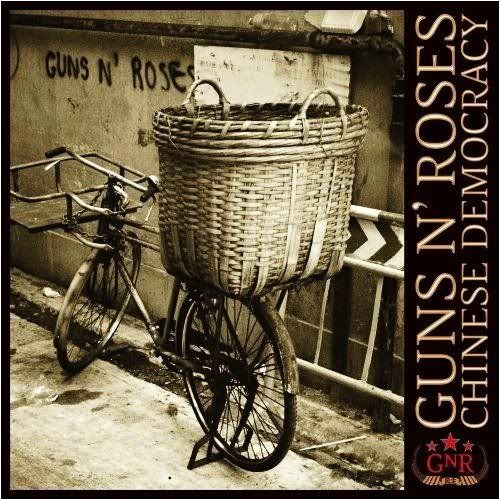 Vital Statistics:

Record Company: Geffen Records
Release Date: November 23, 2008
Producer: Axl Rose & Caram Costanzo
Web Site: http://www.gunsnroses.com/



Musicians:

A cast of characters far too numerous to count...

Let's just call them the "Axl Rose Philharmonic Symphony Orchestra" and leave it at that...




The Rundown:

1.) Chinese Democracy [4:43] (Rose/Freese): The album kicks off with an extended fade-in (not featured on the early demos), consisting of a jumble of soft male and female voices (yep, could be Mandarin
)... which eventually leads us into the main riff. The guitar tone is extra crunchy for this tune, probably using a synth to provide the unusual tone. After the intro, the pace on the song is almost frantic... and Axl's vocals are obviously tripled (at least
) to provide an interesting harmonic mix. All in all, this is a pretty good rocker, but is such a departure from the original loose GN'R sound that it's tough to hear any similarity, with the obvious exception of Axl's unique vocal style(s). Not a bad choice for the 1st single.
Rating: 9/10


2.) Shackler's Revenge [3:37] (Rose/Carroll/Costanzo/Mantia/Scaturro): This whole song is just... well... odd.
It has a strange behind-the-beat feel to the verses and equally-strange synth breaks and 'sounds' throughout. The music is densely-layered... as are Axl's vocals (ranging from a deep baritone to his patented high-pitched shrieks). It gives the listener so much to listen to that, at times, it's a bit hard to process it all. However, after a few listens, the music just seems to blend into a schizophrenic symphony of sound. Overall, much catchier after a few listens.
Rating: 8/10


3.) Better [4:58] (Rose/Finck): Some of the tunes on this album are more melodic, some less, but all feature that oh-so-familiar Axl 'catchiness' we've all come to love (and hate). Still, this one is different somehow. It employs all of Axl's new-found ProTools tricks... but to maximum melodic effect. Make no mistake though, this song is NOT November Rain.
The lyrics are obviously about an unpleasant breakup... and the lyrical tone certainly leans toward the bitter side and melancholy. The break, in particular, is very angry-sounding... with the riff and Axl competing aggressively for headroom. I think this is really the closest thing to the "classic" hard-rocking GN'R sound you'll find here... and Buckethead (I assume) delivers some very Slash-inspired solos and fills throughout. The song really runs the range of emotions and has an awesome groove to it. A must-hear track for fans of the original band to hear the next step in the post-"Use Your Illusion" progression of the band, if nothing else.
As a side-note, this song was tailor-made for Axl to do his patented "white boy wiggle"... I want a video for this one!


RockHard's Ramble:

Every once in a while, a tune comes along that sets my OCD-muddled brain into a frenzy, forcing me to listen to it over and over. God knows why. This is one of those rare songs. I have been completely obsessed with this song for quite a while now, listening to it consistently for the last two or three years in demo form. Then I got a copy of it in "mastered" form (courtesy of our now-infamous buddies over at Antiquiet.com
) and it was obviously the first thing I wanted to hear. Sadly, the "mastered" version turned out to be a polished, glossed-over version of the stellar demo that had caught my attention so completely at first listen. That said, I am happy to report that this version, while not quite as raw as the original, is also lacking much of the polish of the supposed-"master" that the world received a few months ago. A decent compromise, but if Axl had left the demo version alone, he would've earned a 20 from me...


On the liner notes, they should have provided the complete title for this song: Almost Like New GN'R... But Better.
Rating: 10/10


4.) Street Of Dreams [4:46] (Rose/Stinson/Reed): As a demo, this tune was originally titled TheBlues. It begins with a very November Rain inspired piano-vocal intro, complete with Axl's patented love-lost lyrics and plaintive delivery. This one hits all the original marks, from the swelling musical crescendos to the wailing background guitars. Not very original, but this one will definitely give you your "Use Your Illusion" fix. Unfortunately for me, I was one of those people who would take Estranged over November Rain any day of the week...
Rating: 6/10


5.) If The World [4:54] (Rose/Pitman): Antiquiet New Song #3 here. Techno beats, flamenco guitars and full orchestral arrangements. Only Axl would try something like this when every was expecting Sweet Child O' Mine...
He obviously threw away the old playbook for this one, because there is no trace of the classic sound on this track. If Geffen decides to release it as a single, it's as likely to hit the dance charts as anything else. That said, it does feature a ripping guitar solo, which actually works very well with the underlying string arrangements. All told, it's actually a very catchy song in it's own way.
Rating: 8/10


6.) There Was A Time [6:41] (Rose/Tobias/Reed): This one has been around for quite some time in demo form (sometimes listed as TWAT
). Like If The World, it features a techno backbeat... but otherwise has a much more rock-driven sound. Axl delivers some killer beer-soaked screams on this one, and whoever handled the guitar duties really turned in some heavy-duty shredding. This ain't your mama's GN'R... but it's still got attitude in spades.
Rating: 9/10


7.) Catcher In The Rye [5:53] (Rose/Tobias): Think Yesterdays here and you've got the vibe to this one nailed. It's a solid mid-tempo rocker with Axl's melodic choruses and the classic Slash-sound on the bridge solos. Another homage to "Use Your Illusion" here, and not a bad one at that. Rating: 7/10


8.) Scraped [3:30] (Rose/Costanzo/Carroll): A whole chorus of layered Axl screeches greet the listener here, leading into a heavy-duty jam to help you shake off the mellowness of the last few tunes. There have to be at least 5 different vocal tracks here... all Axl. You gotta love it!
Big, beefy guitars and bigger drums deliver a hard-rocking punch that is definitely worth a few spins. Good stuff.
Rating: 9/10


9.) Riad N' The Bedouins [4:10] (Rose/Stinson): AKA ~ Antiquiet New Song #1 (which I thought was a bit silly since earlier demos had the track named correctly). This is another one of those old demos that I liked right away... and the finished version is still very cool. The guitars are given a cool little echo-ey effect during the riff, and the band lays down a major groove for Axl to scream over... and scream he does. I don't know how he still manages it after all these years.
A very non-GN'R sounding song that still rocks in a big-way!
Rating: 10/10


10.) Sorry [6:14] (Rose/Carroll/Mantia/Scaturro): A slow synth groove starts this track off, more reminiscent of Everlast than Aerosmith. The song is down-tempo and moody, picking up steam a bit as the guitars come in for the choruses. More angry-sounding lyrics abound ("You close your eyes... All well and good... I'll kick your ass... Like I said that I would"), and Axl delivers some of his most angst-ridden and haunted vocals here. A big departure for Axl and Co., but it works just the same. Rating: 9/10


11.) I.R.S. [4:28] (Rose/Tobias/Reed): Here's another one I've been listening to for quite a while now... and probably the song that has changed the least over all that time. That's probably because it really works well as it was originally recorded. It starts off very light and melodic, but picks up steam right away and starts rolling. There are a few slow interludes and breaks that play a nice counterpoint to the main theme. This one has grown on me quite a bit since the first time I heard it. I think most of you will feel the same after a few listens.
Rating: 9/10


12.) Madagascar [5:38] (Rose/Pitman): Unlike I.R.S., this one has evolved quite a bit since the early demos. Like If The World, it features an orchestral string arrangement throughout... but overall, it feels more like Sorry in overall vibe. A very dark piece of music... with epic swells and grandiose themes. I'd say it's even more ambitious than November Rain. It hasn't grown on me as quickly as some of the other tracks, but I'd say it's only a matter of time.
Rating: 7/10


13.) This I Love [5:34] (Rose): Here's another piano ballad, but this one starts off a very sparse arrangement, with just Axl and the piano. About halfway through, a lone guitar starts wailing away as a string arrangement fades in to lend more weight. Eventually, the song swells yet again to near-epic proportions, with the strings and guitar building up in intensity, before returning to a much-softer arrangement for the final verses. Absolutely beautiful... and I'm not usually all that big on the ballads.
Rating: 10/10


14.) Prostitute [6:15] (Rose/Tobias): The last of the old demos (another mislabeled AQ leak... it was New Song #2), this tune comes across as a more-upbeat cousin of This I Love. The lyrics tell the tale of a tortured soul (three guesses who
)... and Axl really delivers the vocal goodness here yet again. Another epic song to end an epic album. Rating: 9/10



The Last Word:

"...a schizophrenic symphony of sound..."

~ An anonymous (yet awesome) music reviewer...



That reviewer had this album pegged from the very beginning.


Well, we all know the history of Axl and the legendary struggle it took to finally get him to finally release this album. I won't rehash the whole sordid tale here. What I will say is that due to the length of the recording process in this case, it was a rare treat to hear these songs in various stages of development before the album ever arrived. It gave me a chance to listen to the songs evolve... and then listen to the finished product to see how they changed.

An interesting sidebar to all of the recent issues with the Antiquiet-leaked tunes is that the "masters" obviously weren't the finished product (in the end, at least). All of the songs turned out to be different, although some were fairly close to the final versions. For example, the AQ version of Better was much more polished than the official version (as I mentioned above). Chinese Democracy, on the other hand, was much more raw and less layered than the version used on the CD. As far as I can tell, that means that one of two scenarios occurred:

1.) Axl (and probably Geffen) felt obligated to go back and remix the masters YET AGAIN, in order to make sure that the world received a truly new product when the CD finally hit the shelves.

2.) Antiquiet got their hands on a late demo version of the album, not the actual Geffen masters (the most likely scenario, IMHO).

Either way, what we got is definitely an original product. Even with all the circulated demos out there, I had never heard a few of these songs before. Even the songs I had heard along the way turned out a bit different than the various demo versions. Another surprising fact is that I had heard all along that the tune Oh My God (from the "End Of Days" soundtrack) would appear on the album... but it appears that with the 14 songs on the album as it stands, there was no room for another. That song was excellent, but after all this time, I'm glad they decided to put out a full album of unreleased material. Kudos to Axl and Geffen there.

Anyway, I must say that the musicianship on this album is phenomenal across the board. God knows it should be... the liner notes list a veritable arsenal of musicians for each track, and Axl's love of ProTools multi-tracking and editing capabilities are readily-apparent in some spots.
I know that many people have criticized Axl for tweaking these tunes to death, but as a fellow OCD-sufferer (after reading a few articles, I'm reasonably sure that was part of the problem), I can understand the years trailing away from him, feeding his need to make this album sound absolutely perfect in every way (to his ear, at least). Gadgets like ProTools are an absolute nightmare for some people, as the possibilities truly become endless... yet some of us feel the need to attempt to explore them all just the same.


Hell, you'd be amazed at just how long I futz with these rambling reviews of mine... and they still end up being a jumbled mess.


Speaking of which:

GN'R (Grumbles N' Rants):

I know that more than a few of you won't give this album a shot simply because you don't like Axl. I even debated not bothering with a review, but after a few spins, I thought it was my duty to at least get everyone to give it a second thought before dismissing it entirely.

The more I think about it, I'm really not sure why Axl has such a terrible reputation compared to some of rock music's other "bad boys." Jim Morrison once told a packed house at a show that they were all "a bunch of fucking slaves"... and he's still a legend, nearly 40 years after his death. Hell, there are many self-indulgent prima donnas out there still making music (not to mention asses out of themselves, in some cases
). David Coverdale, John Sykes (especially with Thin Lizzy), Eddie Van Halen and Yngwie Malmsteen all come to mind here. All of them are a bit, shall we say... egocentric?
Yet they all still seem to get their share of love here. Axl cancelled a few shows, threw a few well-publicized tantrums... and fell off of a few stages. So what? Metallica completely went to shit in 1993... and still haven't completely redeemed themselves in my eyes (and ears), yet many of you washed down the bitter taste of "St. Asshole" and rushed right out to buy their latest disc.

I won't try to convince anyone that this disc is Axl's "Master Of Puppets" or "Dark Side Of The Moon." It's not.

I won't try to tell you that the band's experimentations will be appreciated by everyone. It won't.

I won't try to tell you that Axl has suddenly become some kind of saint or martyr. He hasn't... I'm sure of it.

That said, I also won't let his earlier self-indulgent antics stop me from enjoying a good album... and this is a good album. Just that simple.

For those of you who still won't give the album a chance, I'd say you are going to miss out on some pretty good tunes and leave it at that.

'nuff said. Rant off.


The safe bet here would have been to try to remake "Appetite For Destruction," but for better or worse, safe has never been Axl's style. Frankly, considering the current state of the music business, I'm amazed that he didn't just assemble a substitute band, rewrite the big hits and deliver the album 10 years ago... but again, that doesn't strike me as his style. A few of the songs are reminiscent of GN'R's later sound, while others are something altogether different.

A few of these tunes grabbed my attention right away, while others took three or four honest listens. At this point though, I must admit that nearly all of them have grown on me quite a bit. Even in the context of the more experimental tunes on this album, the one thing that is constant here is Axl's songwriting. Like it or not, he still knows how to write 'em.
We all know that Axl's voice is an acquired taste, but for those of us who appreciate his vocals, this album is a real treat. He really lets it fly on some of these tracks, and in many respects, I'd say they are even more powerful here than on earlier recordings.

Truth be told, this album will most likely never live up to the hype it's received over the years, but I also wouldn't be surprised to see it take off after a year of floundering, much like "Appetite..." did. It's just a matter of finding the right single at the right time to launch some big-time airplay... and with such an eclectic array of songs, it could be any of the tunes on here that puts it over the top. I definitely recommend giving it a try. Axl may just catch your ear, whether you want him to or not...


Hype or not, I would recommend this album to any rock fan. It ain't "Appetite...", but it rocks just the same.




The Bottom Line (AKA - The Six-Pack Scale):
Steve



P.S. ~ Apologies up-front for this rambling mess of a review. I had a ton of things to say about this one, which made it especially difficult to write a review like this piece-meal and still sound coherent. I doubt I did the album any favors here, but hopefully you can make heads-or-tails of what I was trying to say.